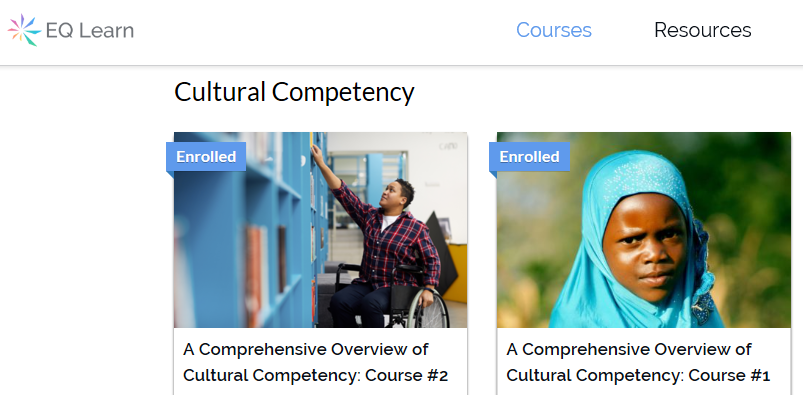 New PELSB-Approved Cultural Competency Courses Now Online
We've been busy here at EQ Learn since launching our new site in March. Importantly, we've recently released new courses designed to meet the Professional Educator Licensing and Standards Board of Minnesota's new Cultural Competency requirements for educator re-licensure renewing in, or after, 2020.
According to PELSB, Educators may take any training that meets the following criteria:
Shows evidence of self-reflection and discussion of the following topics in a way that deepens teachers' understanding of their own frames of reference, potential bias in these frames, and the impact of bias on expectations for and relationships with students, students' families, and school communities.
Racial, Cultural, and Socioeconomic Groups
American Indian and Alaskan Native Students
Religion
Systemic Racism
Gender Identity, Including Transgender Students
Sexual Orientation
Language Diversity
Individuals with Disabilities and Mental Health Concerns
We've released a two-course curriculum that covers all required subtopics detailed above. Each course earns 3 continuing education units (CEUs) and 3 clock hours.
Topics covered in course #1 include:
Diversity in Racial, Cultural and Socioeconomic Groups
Systemic Racism
American Indian and Alaska Native Students
Religious Diversity
Cultural Competency course #1 is available here
Topics covered in course #2 include:
Gender Identity and Transgender Students
Language Diversity
Individuals with Disabilities Act (IDEA)
Childhood Mental Health Disorders
Our Cultural Competency course #2 is available here
Each course is $30 if purchased individually, or $54 (10% discount) if purchased together or with any other course we offer.